Few material items on earth are worth $100 million, but a handful of paintings have been auctioned for more than this astounding sum. Each of these works distill elements of genius, emotion, nature, love and life into a single canvas and have taken their place in the annals of art history. Here is a roundup of twelve of the world's most expensive paintings.
12. Vincent Van Gogh, Verger avec cyprès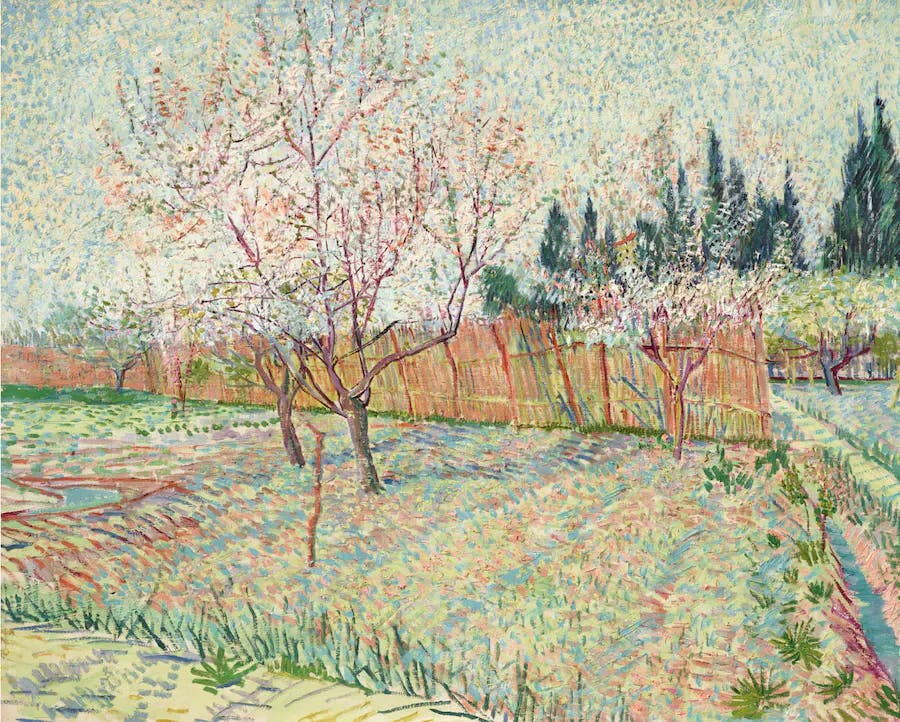 Vincent Van Gogh first came to Arles in 1888 because he was suffering from a cough and ill health. The two years spent in the South of France proved to be the most prolific period of the Post-Impressionist's short career, as he completed hundreds of artworks there. One of his early works in Arles was this depiction of a cypress orchard, capturing the early blooms of spring with his brilliant use of a range of pastel colors. Van Gogh oil paintings of this caliber rarely come to auction, which is likely why it achieved such an incredible price of $117.1 million as part of Microsoft founder Paul Allen's $1.6 billion collection in November 2022.
11. Edvard Munch, The Scream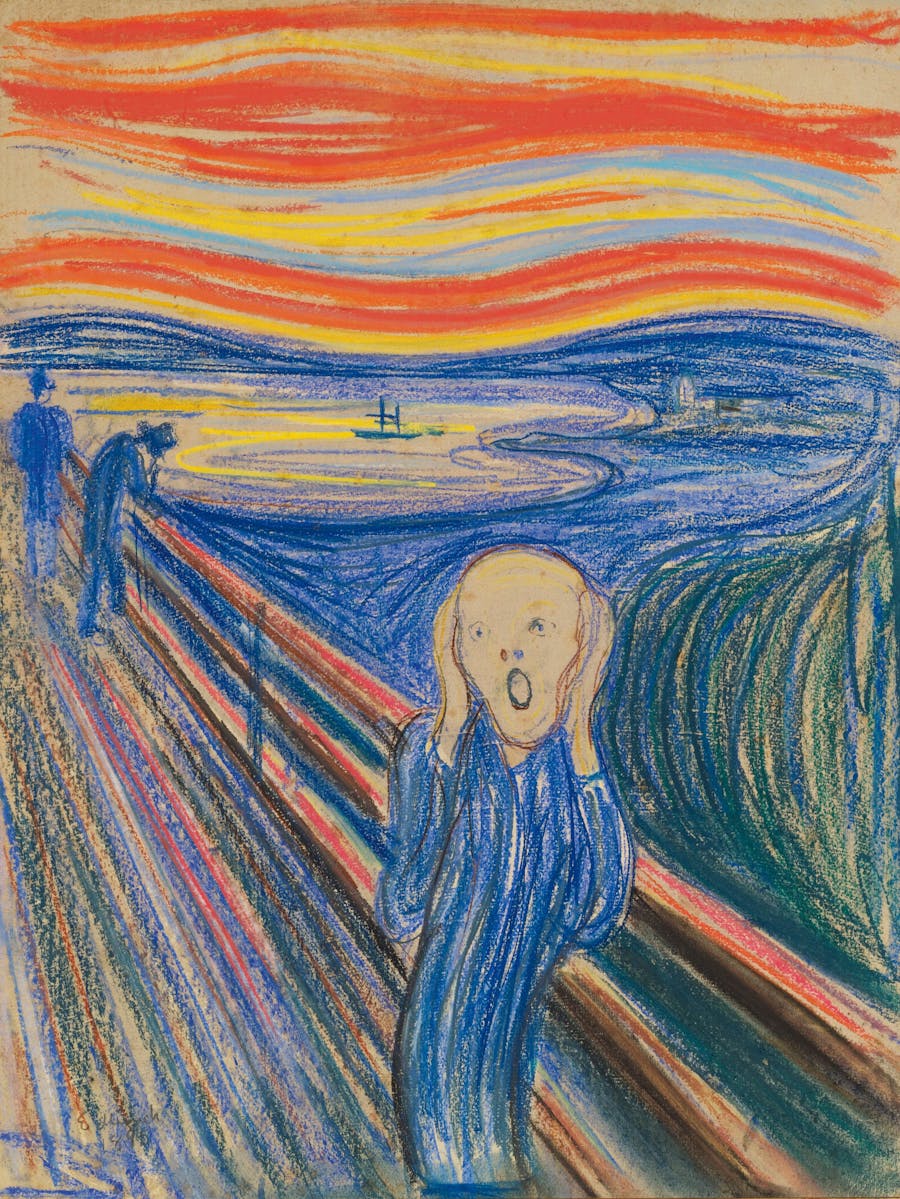 The Scream by the Norwegian painter Edvard Munch is often considered a hallmark of early Expressionism. In the now iconic painting, Munch processed an anxiety attack that plagued him during an evening stroll. Munch painted four versions of the artwork in the 1890s, in oil, tempera and pastel. Three are owned by Norwegian museums, with this version from 1895 in pastel being the only one in private hands. It sold for nearly $120 million to American billionaire Leon Black in May 2012.
Related: 10 Record-Breaking Artworks and Who Bought Them
10. Paul Cezanne, La Montagne Sainte-Victoire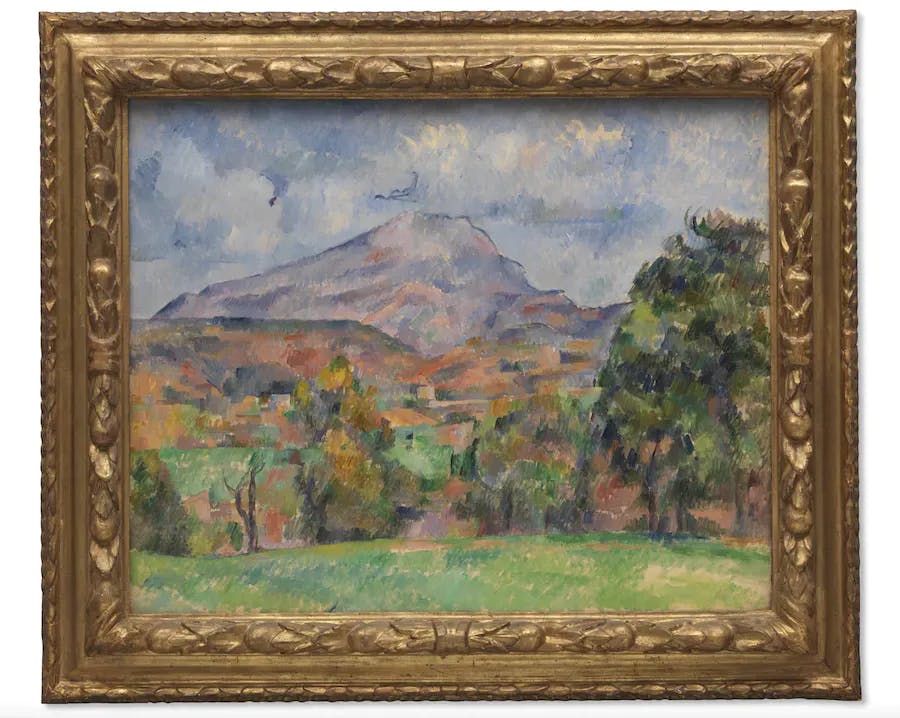 Paul Cézanne was a native of the South of France, born and raised in Aix-en-Provence. He divided his life between Paris and Provence, and one of his recurring motifs was Mont Sainte-Victoire, a limestone mountain in Provence, that he painted repeatedly during the last 28 years of his life, when he lived permanently in Provence. This version is one of the most spectacular left in private hands (most are in the world's top museums), and his flattening technique foreshadowed the rise of Cubism. Its great significance in art history was reflected in its price: $137.7 million.
9. Pablo Picasso, Femme à la montre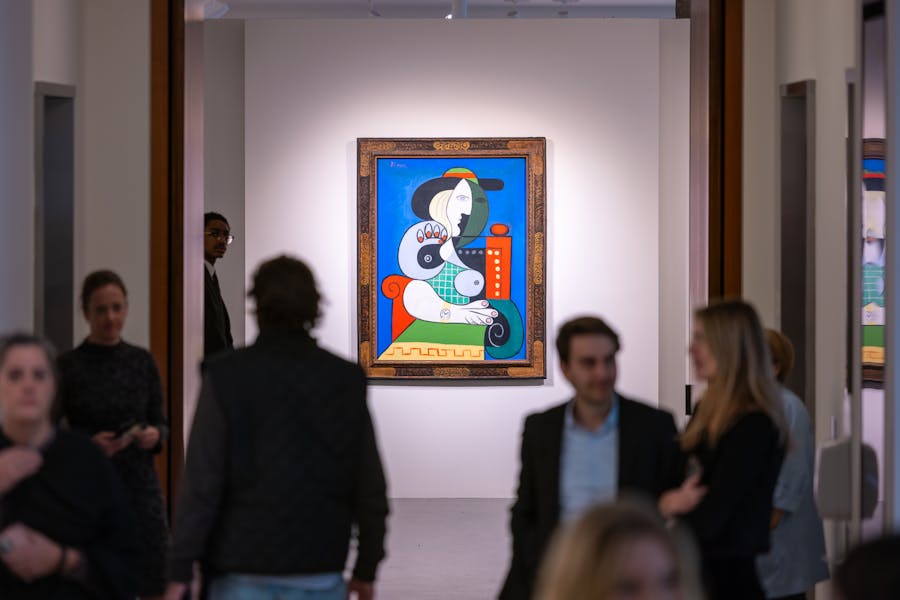 Pablo Picasso's Femme à la montre was painted in 1932, a particularly prolific year for Picasso when he produced some of his most acclaimed works inspired by his muse and mistress, Marie-Thérèse Walter. The portrait, a whimsical geometric composition in punchy primary colors, is Picasso at his best, as echoed in its impressive sale price of $139.4 million at Sotheby's in November 2023. The masterpiece is the most expensive painting sold so far in 2023, as well as Picasso's second most expensive painting ever sold. 
8. Qi Bashi, Twelve Landscape Screens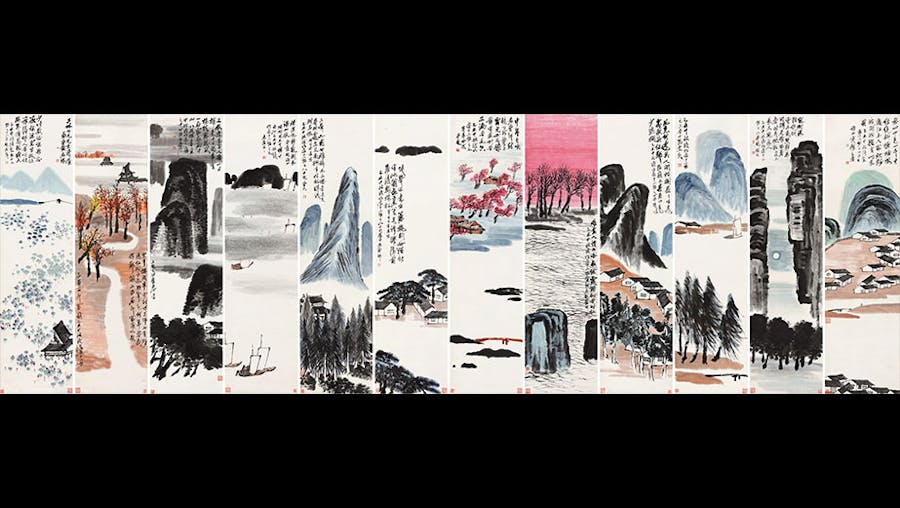 The only work on this list to be sold outside of the United States, at Beijing Poly International Auction in China, Twelve Landscape Screens is a series of ink-brush panels that fetched $140.8 million in 2017. Considered the most important modern Chinese painter, Qi Bashi's work was deeply steeped in Chinese art principles, showing no Western inspiration, and focused on landscapes, animals and botany. The Twelve Landscape Screens from 1925 is one of Bashi's few large-scale works, and the only other version Bashi made is in a Chinese museum.
Related: China's 7 Most Influential Contemporary Artists
7. Francis Bacon, Three Studies of Lucien Freud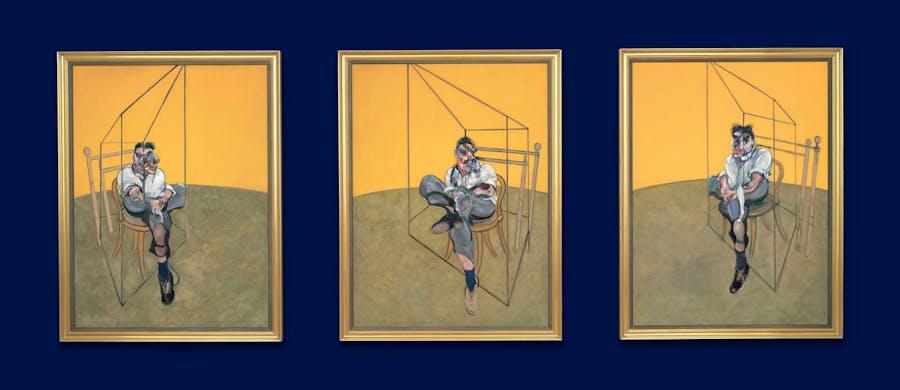 Francis Bacon and Lucien Freud's friendship was fraught with professional jealousy and deep admiration. Both artists painted portraits of the other in the 1950s and '60s, before an argument permanently ended their relationship in the mid-1970s. Bacon's triptych Three Studies of Lucian Freud (1969) was sold as three separate paintings in the 1970s to Bacon's acute dismay. However, the three works were later reunited as a triptych and set a record for the artist, selling for $142.4 million to Elaine Wynn, the ex-wife of Las Vegas mogul Steve Wynn.
Related: Obsessive Love: Francis Bacon and Peter Lacy
6. Georges Seurat, Les Poseuses, Ensemble (Petite version)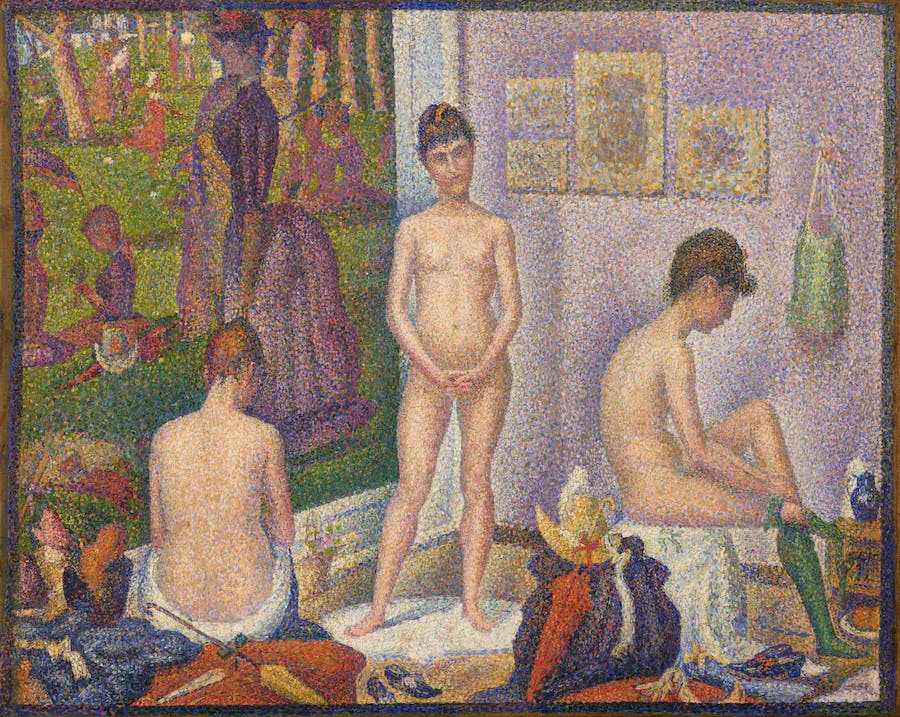 The most expensive work of Paul Allen's $1.6 billion art collection, Georges Seurat's Les Poseuses, Ensemble (Petite version) sold for $149.2 million. The Pointillist work was a response to pervading criticism of Seurat's masterpiece A Sunday Afternoon on the Island of La Grande Jatte (1884-86) that decried it as too stiff and formal to properly depict modern life. While part of A Sunday Afternoon [...] is in the background, three nude models pose casually in front of the canvas. He painted two versions of Les Poseuses, with the larger version in the Barnes Collection in Philadelphia.
Want articles like this straight to your inbox? Subscribe to our free newsletter here!
5. Amedeo Modigliani, Nu Couché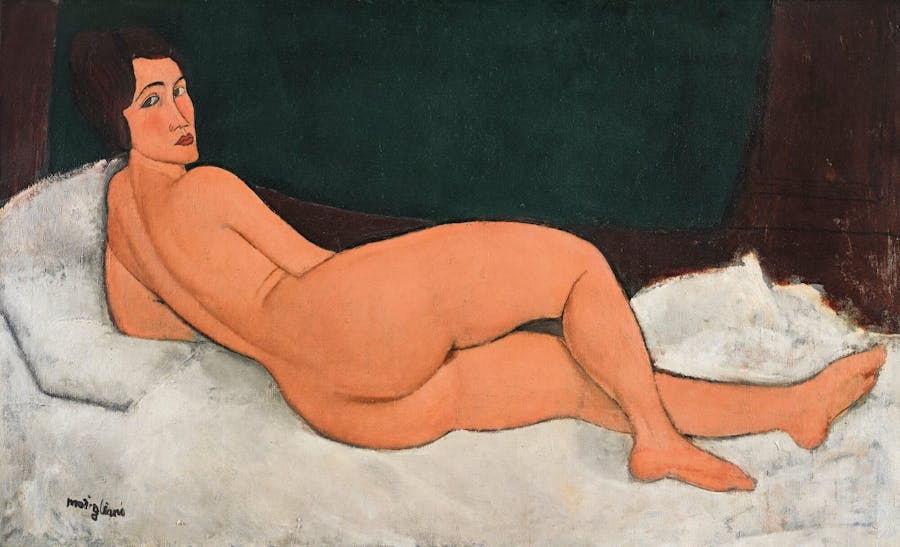 The largest of Amedeo Modigliani's 35 nude paintings painted between 1916-19, Nu Couché (sur le côté guache) (Nude lying on the left side) broke records as Sotheby's all-time highest sale when it achieved $157.1 million in 2018. The extraordinary work, painted in 1917, was a reinterpretation of the classical nude in the context of modern art. While today widely praised and admired, the nudes of Modigliani were not so well received when first shown in 1917 and the Paris police even shut the gallery exhibit down.
Related: Five Centuries of the Nude in Painting
4. Amedeo Modigliani, Nu Couché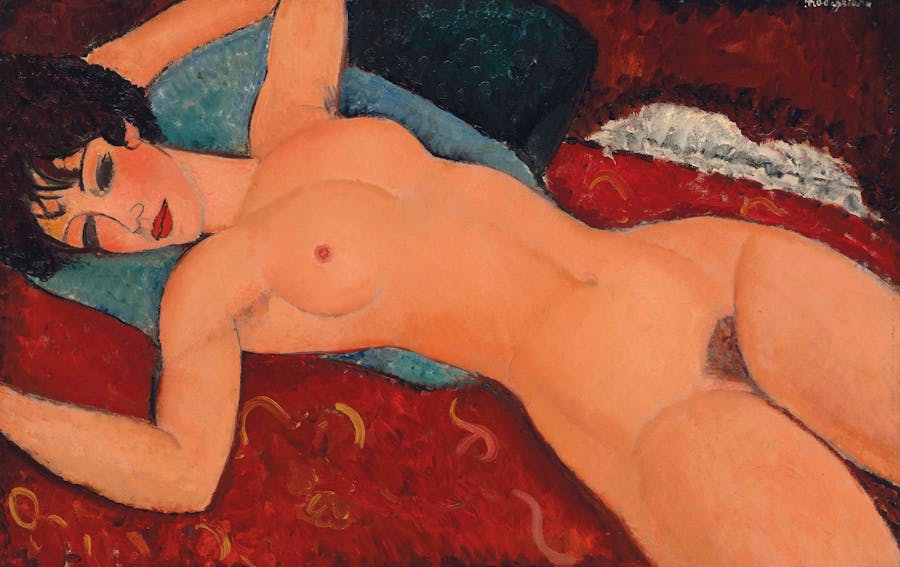 This famous nude, also possibly part of the 1917 Paris show, reinforces the image of a classical nude, harkening to Renaissance representations of Venus in her reclining posture. It sold at Christie's in 2015 for $170.4 million to Liu Yiqian, a Chinese billionaire and art collector.
3. Pablo Picasso, Les Femmes d'Alger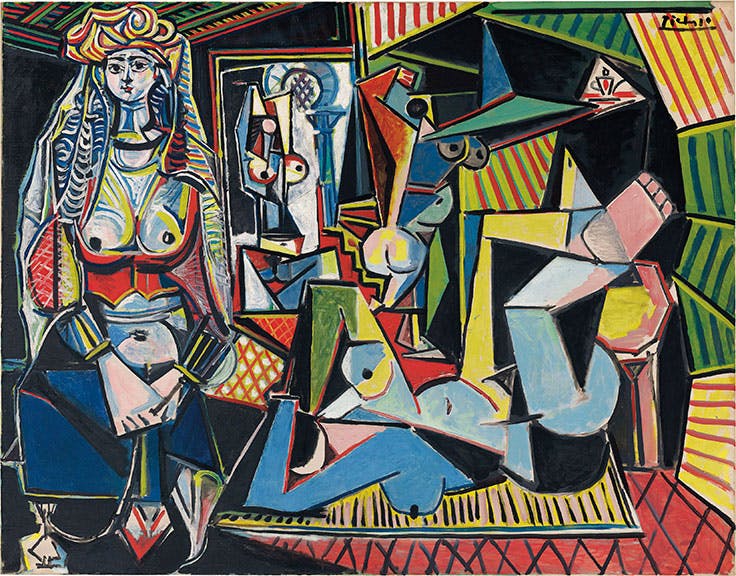 Picasso's masterpiece Les Femmes d'Alger (1955) was the final version, titled 'O', in a series of 15. A modernist interpretation of Eugene Delacroix's The Woman of Algiers in their Apartment (1834), Picasso's colorful Cubist melange of figures and limbs are a study in color and decadence, which inspired him later that year to buy La Californie, a villa in the South of France. Version 'O' sold in May 2015 for $179.4 million to the former Prime Minister of Qatar, and the other lettered versions have sold to private collections or museums.
2. Andy Warhol, Shot Sage Blue Marilyn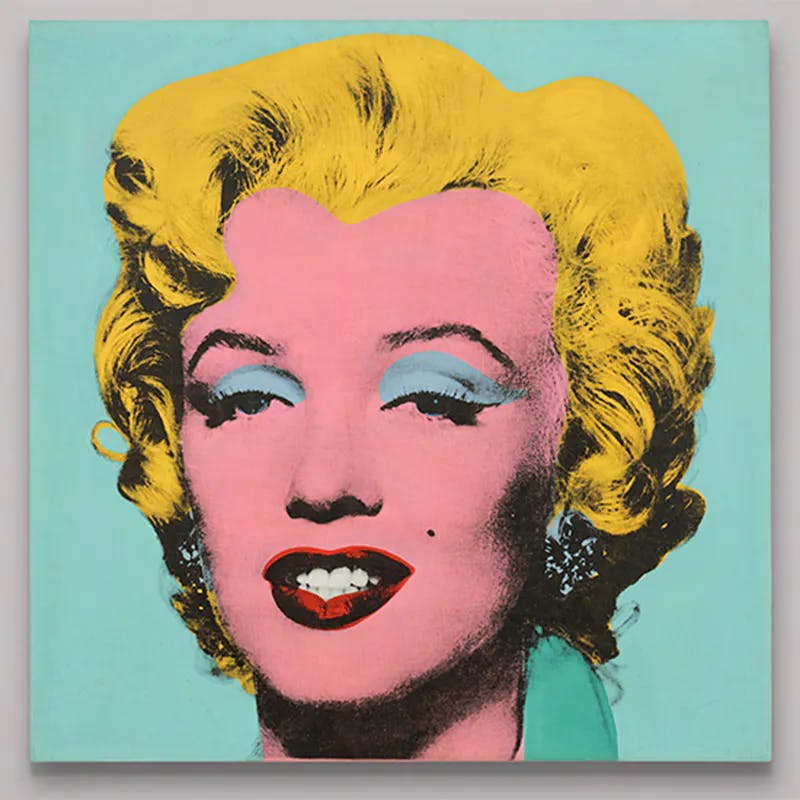 The most expensive work of 20th century art, Andy Warhol's iconic Shot Sage Blue Marilyn sold for a staggering $195 million at Christie's in May 2022. Warhol began creating screen prints of Marilyn Monroe after the actress' death in August 1962. The painting is part of the "Shot Marilyns" series that also includes four other versions in red, orange, blue and turquoise. The title derives from a curious incident, when the performative artist Dorothy Podber asked Warhol for permission to shoot the works in 1964. But, instead of photographing the works, Podber pulled out a revolver and fired at the stack of canvases. Thus was born the series "The Shot Marilyns." This blue work was acquired by Thomas and Doris Ammann, siblings who ran Thomas Ammann Fine Art, a gallery in Zurich, from Si Newhouse, the Conde Nast heir, in the 1980s.
Related: A History of the Smile in Art
1. Leonardo da Vinci, Salvator Mundi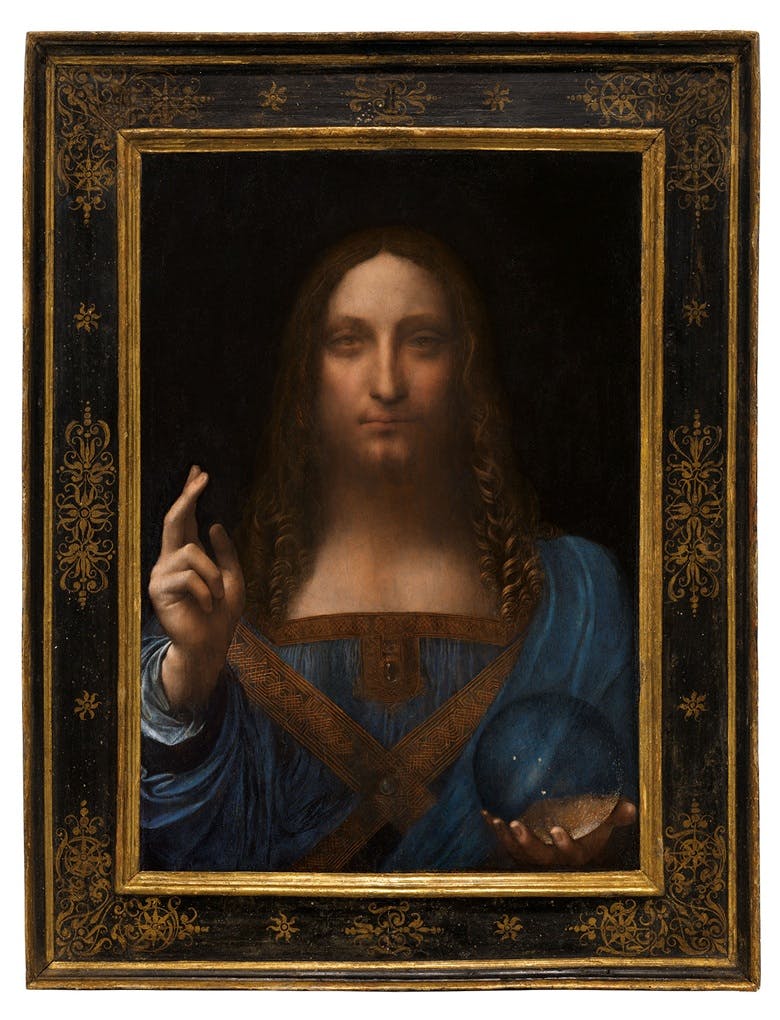 The most valuable painting ever sold, Leonardo da Vinci's Salvator Mundi (Savior of the World), depicting Jesus holding a glowing orb with his hand raised in blessing, was likely painted in 1500. The masterpiece passed through the collections of British royalty in following centuries, but became damaged and heavily repainted over time. After turning up at a New Orleans auction in 2005 and selling for $10,000, it was carefully restored to its former grandeur and verified as the last da Vinci masterpiece. In November 2017 at Christie's, the work sold for $450.3 million to Saudi Arabian prince Badr bin Abdullah, likely on behalf of Crown Prince Mohammed bin Salman. Since its record-setting sale, questions of its whereabouts have swirled as the painting was promised to the Louvre Abu Dhabi, but hadn't been seen in public since its sale. In 2019, it was reported that is on the Crown Prince's yacht.