This antique-inspired vase is one of the six 'First Day's Vases' from the opening of Josiah Wedgwood's new Etruria factory in 1769, designed together with his business partner Thomas Bentley, who was known for his refined tastes and knowledge within classical art. The vase was passed through generations of the Wedgwood family line and was sold at auction at Christie's for £482,500 ($641,000) – 302% over its estimated price. Therein lives the proof that the Wedgwood legacy and popularity continues to live on.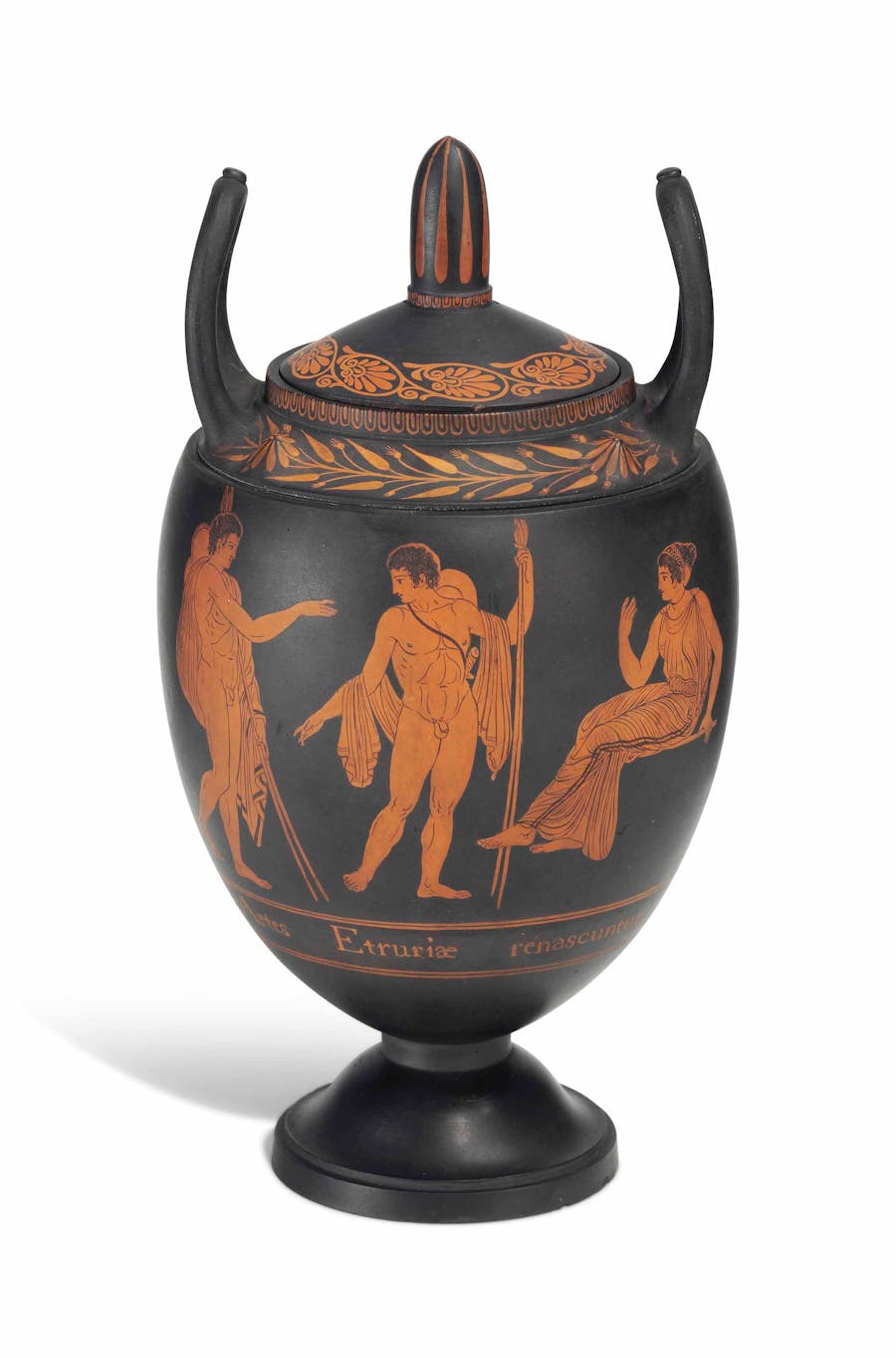 Alongside the refined and exquisite works of Josiah Wedgwood and his Jasperware, Staffordshire is also famous for its charming figurines, which are some of the world's most copied pieces through time. This, however, has made it far more difficult to recognize a true antique piece, particularly as the reproductions have become better with time thanks to clever tricks to make the figurines look dated and antique.
See also: Lucie Rie: Art of the Tea Ceremony
The popular figurines of Staffordshire often demonstrate the life of Victorian England, which is why we often find pieces inspired by royalty and other famous figures of this time, such as politicians. Animals is another favorite, where you can find anything from the exotic, like parrots and zebras, to farm animals, like hens, sheep, cats and dogs. These Staffordshire dogs, made up of several breeds, are the ones which have reached an immense popularity. The Spaniel is the one considered the most famous and popular, with their sad but amusing facial expression and with a chain and locket. These come in pairs of two and are made for decoration for the fireplace or tabletop.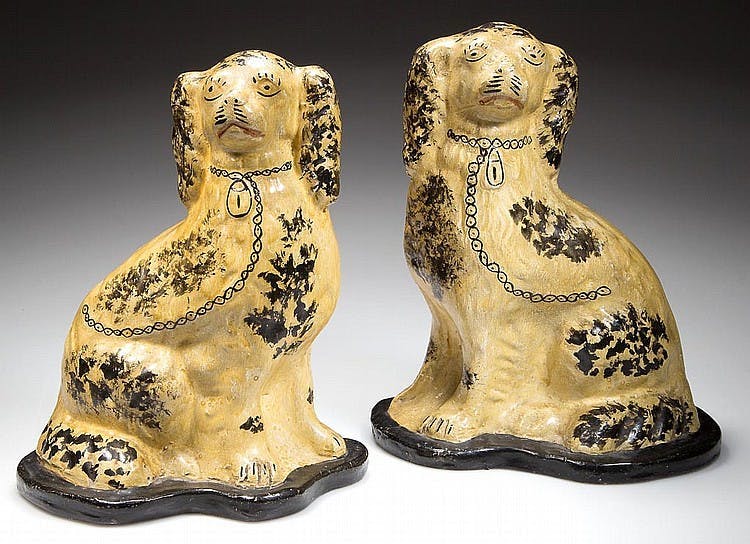 In regards to Staffordshire dog figurines and their popularity on the market, Cecilia Nordström, a specialist in Asian ceramics and works of art and European ceramics and glass at Bukowskis auction house, Stockholm, says "The Staffordshire dog figurines, dated back to the earliest production in the 18th century, are the most rare objects, especially if you find one of the more unusual pieces, such as an unique dog figurine of an unusual breed. The objects from the early production days are the ones which are most valuable and also desirable. Since the Staffordshire dog figurines have been a collector's item, this is also why you might not see them too often on display for auction, the collectors come and go with the shift of generation."
These charming pieces have spread all over the world. Of her experience with clients who have inherited dog figurines, Nordström says, "The clients, several of them, have shared that their fathers or grandfathers were away at sea and bought the figurines in English harbors and brought them back home as souvenirs or gifts."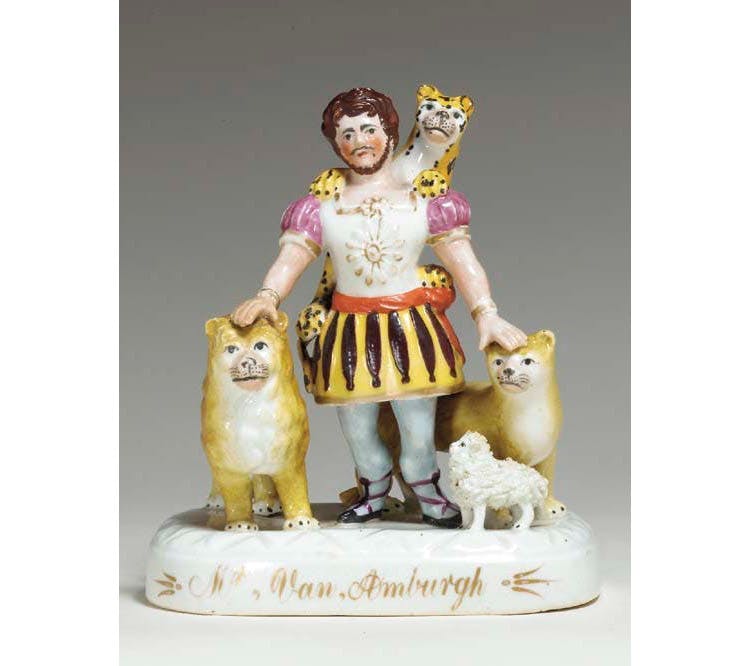 The Staffordshire dog figurines are most popular in English houses. Christie's London confirms that a rare matching pair from the early production can be sold at auction for considerable sums. Since the Staffordshire figurines have been some of the world's most reproduced objects, this has resulted in a large quantity and therefore the later productions are not as valuable.

To make sure you have a true antique piece on your hands, there are a few things you keep in mind. Investigate the figurine all over: back, front, sides and bottom; an antique piece has features that the reproduced pieces lack. Inspect, in particular, the bottom of the figurine to see if there are holes. Larger holes the size of a coin means these are not antique. However, older pieces can also have fire holes, where the gas was let out, though these are quite small. The bottom is not smooth or perfect on an antique piece and drips of paint have often slipped down to the bottom.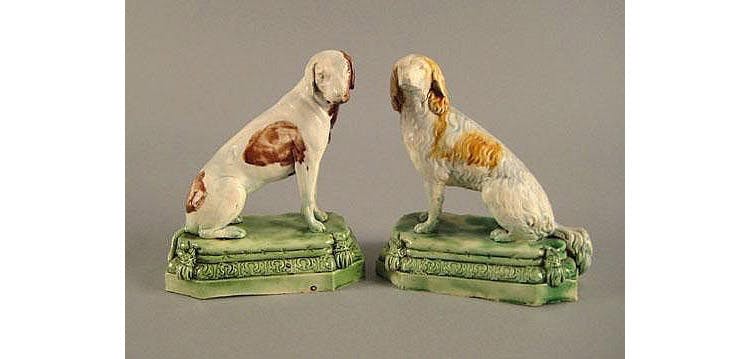 The entire figurine should be painted with small, thin strokes from a paintbrush, which indicates it is hand-painted and in not large, fat strokes of manufacturing trade. If you can see any mirror-like reflection in the decoration you can be sure this is not an antique piece. For the figurines which as a pair, these are never identical in old figurines – they are similar to one another but never perfectly identical. Some of the Staffordshire pieces are marked with the letter 'S', however this is not always the case with some of the old figurines. 
Text: Kristina Gyllenberg