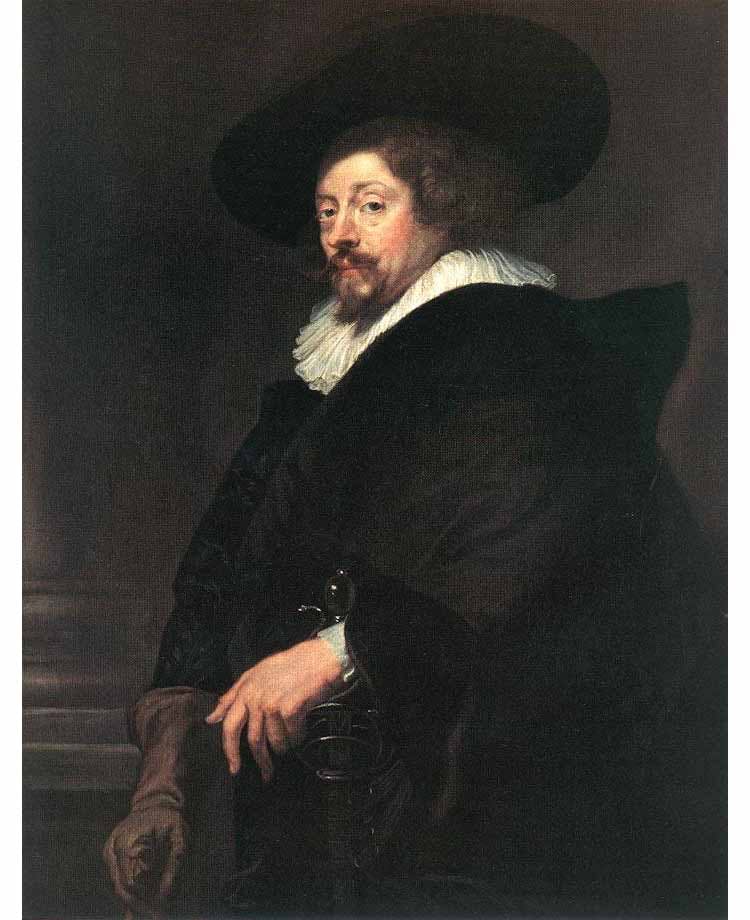 The later master of the baroque painting Peter Paul Rubens was born on 28 or 29 June 1577 in Siegen, which at that time belonged to the county of Nassau-Dillenburg. His father, Jan Rubens, was a lawyer in Antwerp before he had to flee from the Spanish Netherlands, ruled by the Catholic Hamburgers, because of his Calvinist faith.
Later, Jan and his wife moved to Cologne with their six children. After his death in 1587, the rest of the family returned to Antwerp, where they came closer to Catholicism. Peter Paul received a good education at a Latin school and got to know courtly life as a page of a Flemish princess' daughter.
See also: Peter Paul Rubens: 5 Facts to Know
From 1592 to 1600, Peter Paul Rubens was apprenticed in succession to the painters Tobias Verhaecht, Adam van Noort and Otto van Veen. Even before the end of his apprenticeship he was accepted into the Antwerp Guild of St Luke in 1598.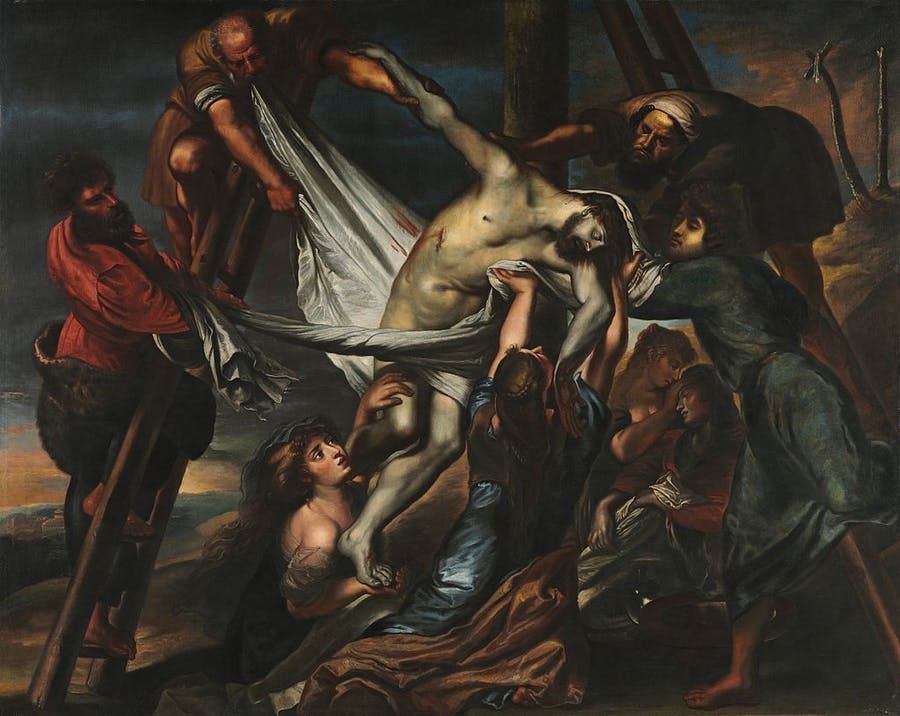 Afterwards, Rubens, then 23 years old, traveled to Italy, where he studied the works of Titian, Tintoretto, Raphael and Caravaggio. Despite his youth, the Duke of Mantua, Vincenzo Gonzaga, became aware of him and made him his court painter – and his envoy: in 1603 the Duke sent the painter on a diplomatic mission to the court in Madrid.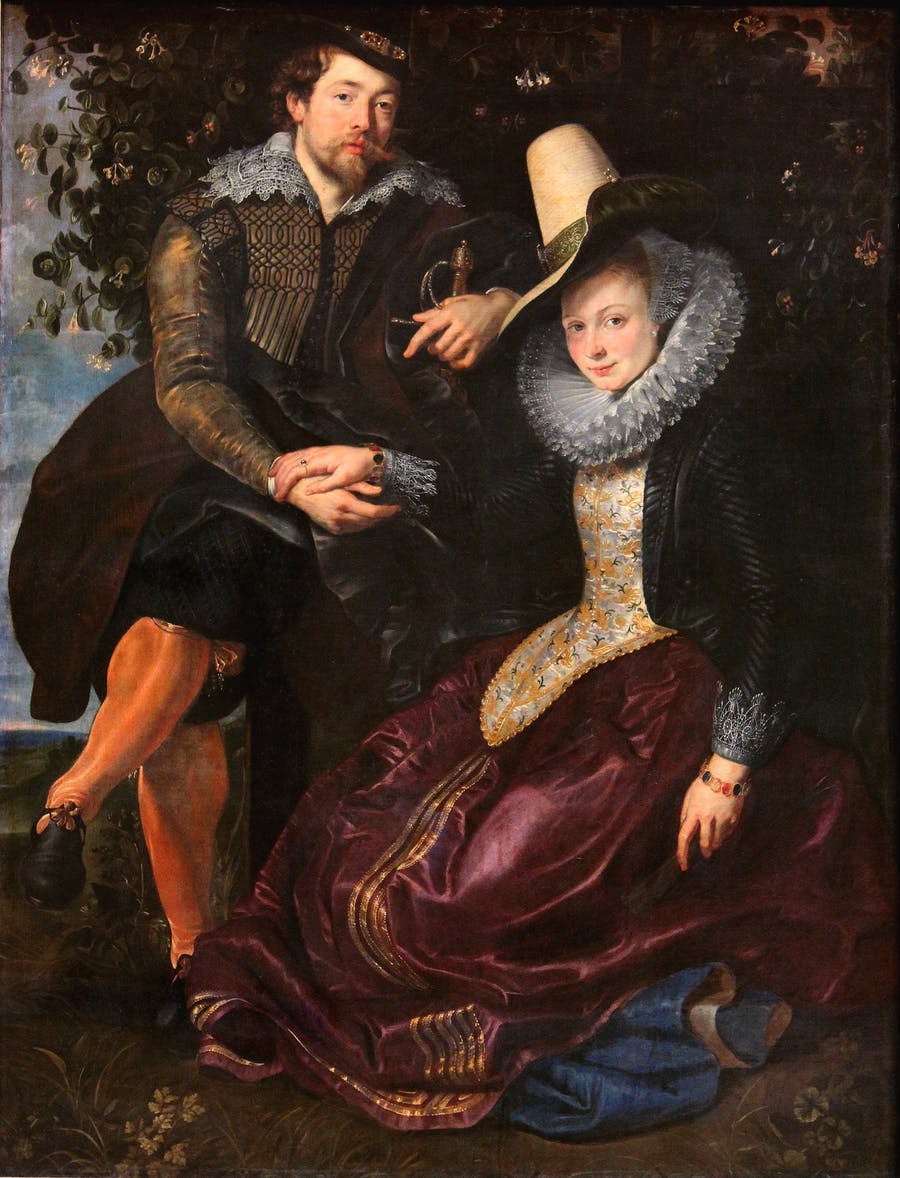 The death of his mother in 1608 forced Rubens to return to Antwerp, where the governor couple Albert and Isabella von Habsburg, who were great patrons of the arts, also appointed him court painter, ensuring Rubens an annual income of 500 guilders. He was then in a position to enter into a marriage befitting his status. His chosen one was the patrician daughter Isabella Brant. That this was a marriage full of love is shown by this double portrait that Rubens painted shortly after the wedding: the young couple are tenderly affectionate to each other and sit in front of a honeysuckle bush, which stands for fidelity and the hope for a long marriage.
See also: Top Ten Rediscovered Masterpieces, According to Barnebys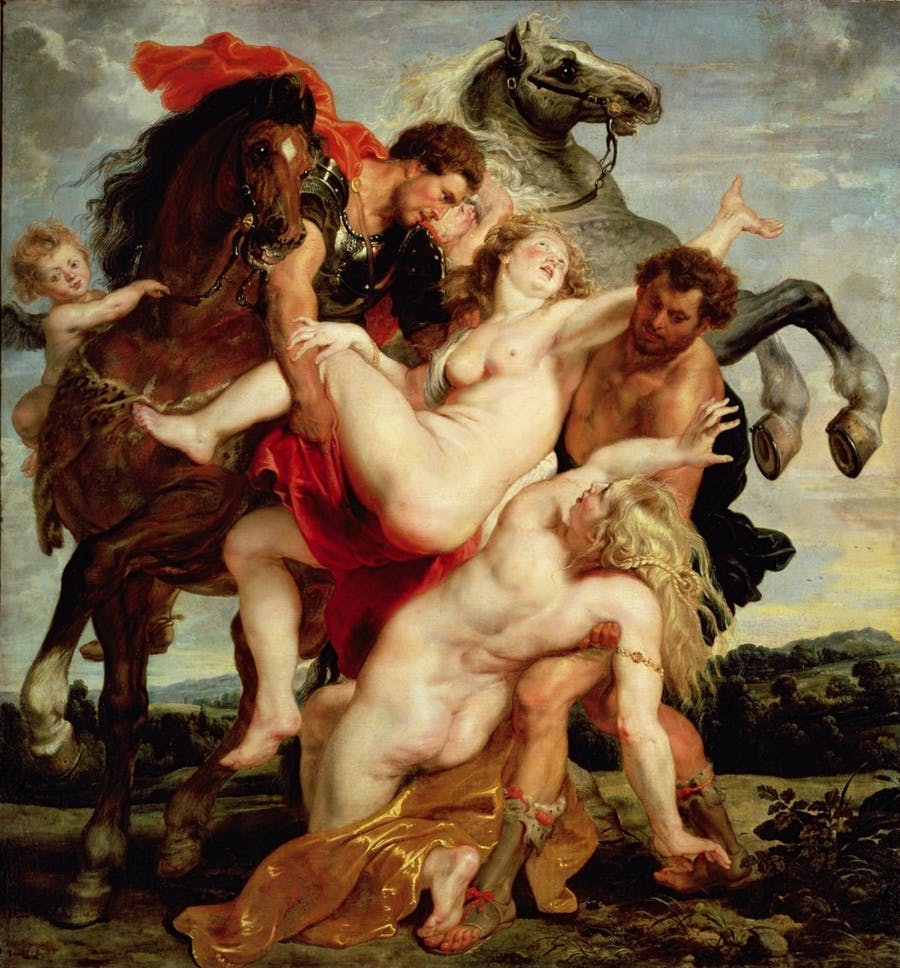 Rubens' talent and his prestigious status as court painter earned him many commissions from the church, the nobility and the bourgeoisie, which enabled him to afford to have a magnificent town palace built in 1611 as his own home with an attached workshop.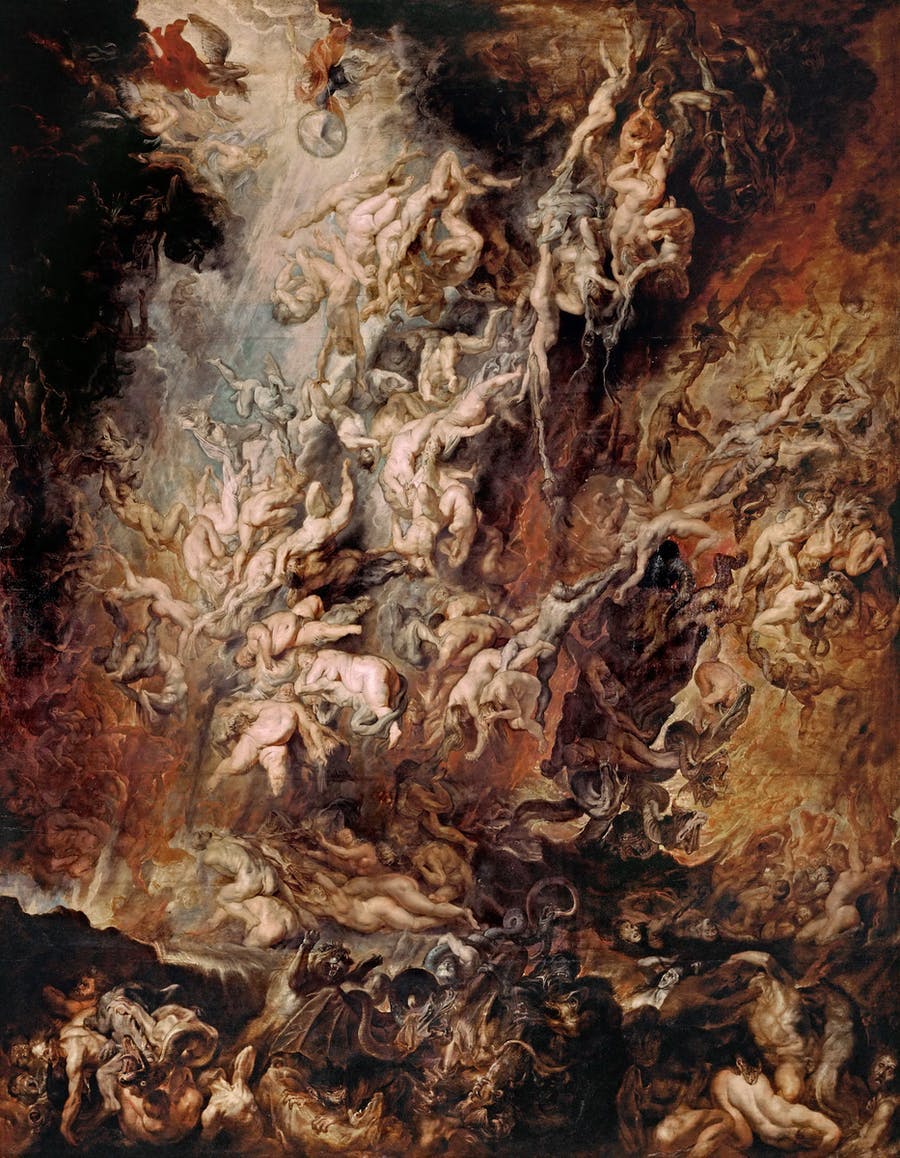 The abundance of orders that came in could only be handled with a large number of workshop employees: Rubens made sketches of details as well as the overall composition and, above all, of the oil studies he perfected. He left the painting itself to his collaborators, among them at times Anthony van Dyck, Jacob Jordaens, Frans Snyders and Cornelis de Vos.
See also: The 10 Most Scandalous Artworks
Rubens also employed wood and copper engravers who reproduced his painted works and made them known throughout Europe. In 1622, he received his biggest commission when the Queen Dowager and Regent of France, Maria de' Medici, ordered 21 paintings to trace and glorify her life.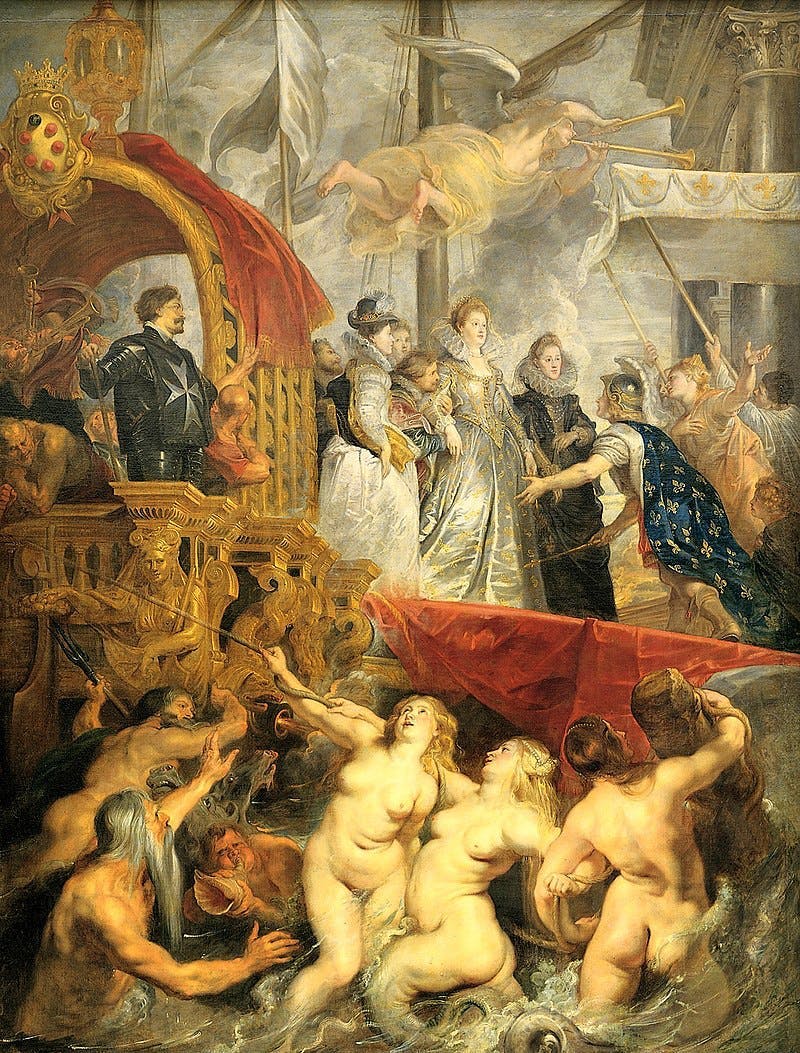 Over the next seven years, Rubens was repeatedly sent by his sovereign on diplomatic missions to Madrid and London, where he was raised to the nobility. In 1626, Isabella died, and one year later Rubens sold his art collection of works by artists he had studied in Italy at the beginning of his career for one million guilders.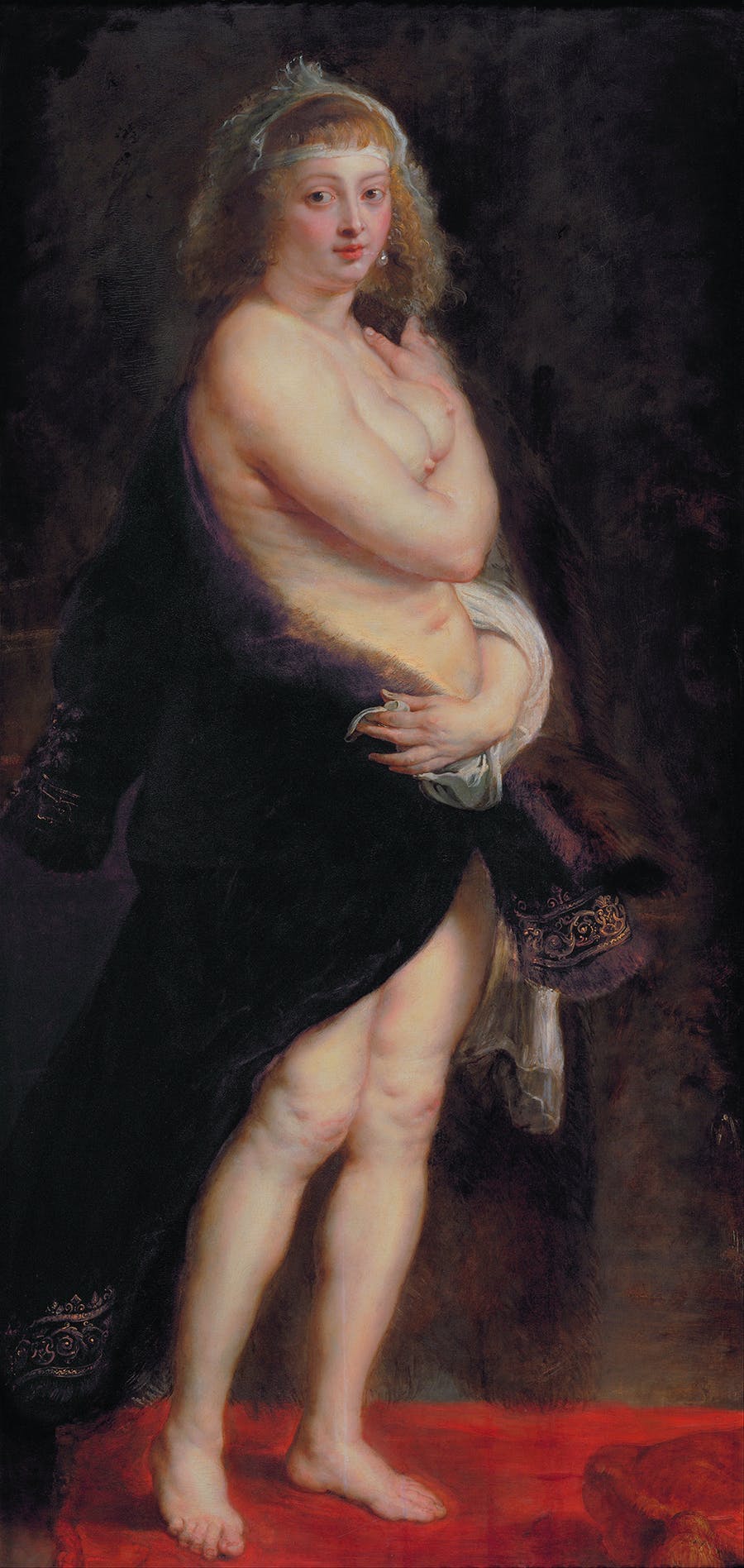 In 1630, he married a second time: 16-year-old Hélène Fourment, the daughter of a friend of a carpet dealer and niece of the late Isabella. Hélène repeatedly served her husband as a model. The best known 'joint work' is Little Fur, which was made around 1637 and depicts Hélène almost undressed. The couple lived alternately in the Stadtpalais in Antwerp and in the country castle Steen near Mechelen, which Rubens was able to acquire by selling his collection.
See also: The First Works of 10 Famous Artists
A castle was also his last major commission, namely the furnishing of the hunting lodge of the Spanish king, Torre de la Parada, near Madrid. Peter Paul Rubens died in Antwerp on 30 May 1640.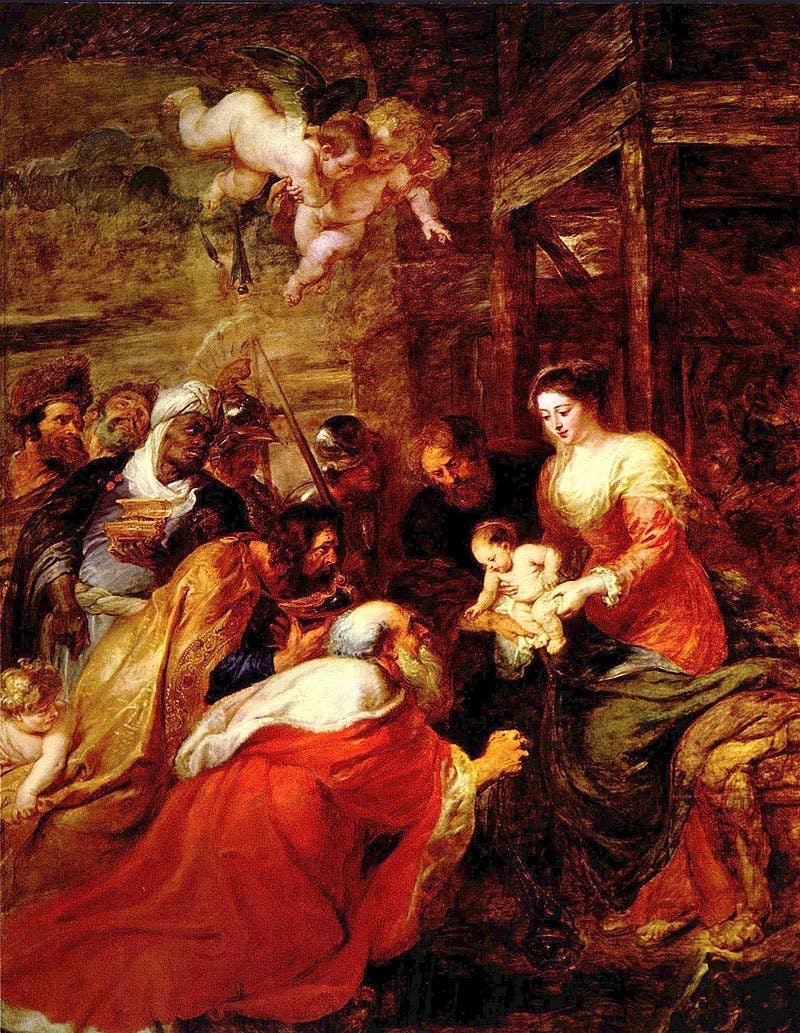 In the course of his unparalleled career, Rubens devoted himself to all the great themes of painting, from the biblical and Greek mythology to landscapes and portraits. He also managed to fuse different genres: one such example is the Medici cycle, which is both historical and supernatural at the same time, without appearing artificial.
See also: The 10 Most Famous Works of Art and Where to Find Them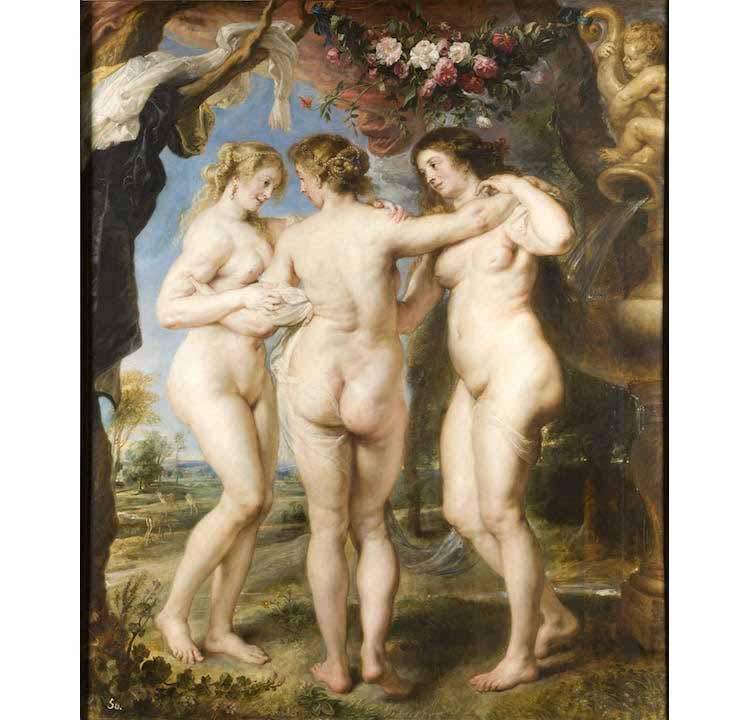 Rubens' most important legacy, which has survived to this day, is the carnal sensuality of his portrayals. The master succeeded in doing this, above all, through the perfect reproduction of the incarnate parts – the human skin tones – for which he exclusively used the three primary colors red, yellow and blue, thus making the figures appear as a luminous part of the color cosmos.