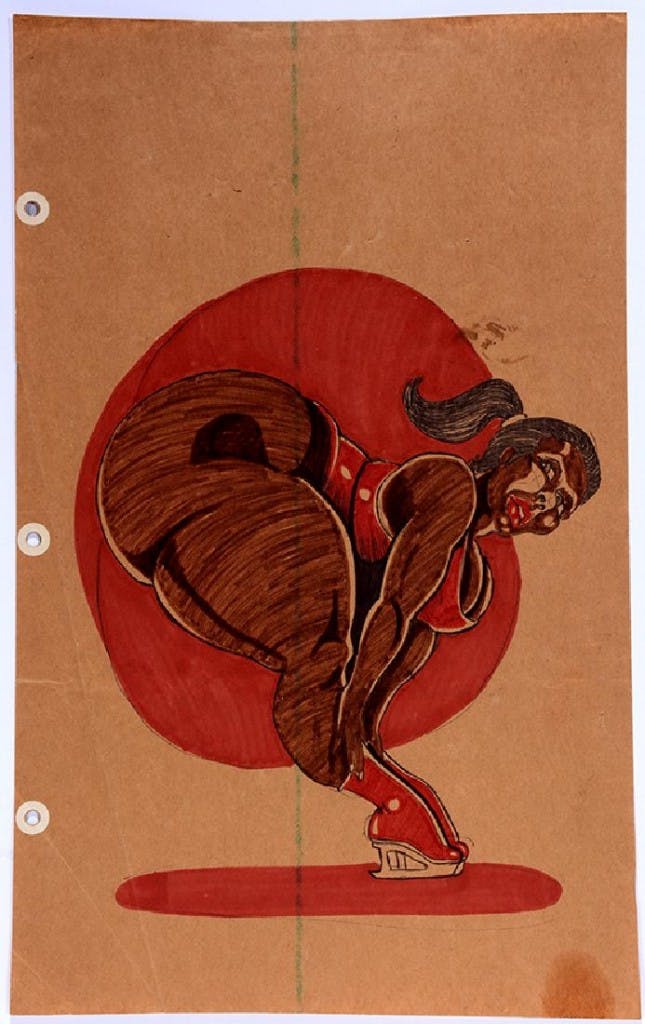 Folk art and self-taught art is wildly popular with collectors and it comes in many forms. Take, for example, this provocative and striking marker and ink on brown paper titled Balancing on High Heel Boots. It's an erotic drawing signed by the African-American artist B. E. Riddick
and it's lot #333 in Slotin Folk Art Auction's April 29-30 auction of self-taught and outsider art, Southern folk pottery, antique and folk art and more, online and at the firm's gallery in Buford, Ga. The drawing is one of 18 works by Riddick in the sale.
"African-American drawings are one of the lesser heralded genres of folk art and self-taught art, but it's a rising star that's gaining in popularity," said Steve Slotin of Slotin Folk Art Auction. The Riddick drawing here has an estimate of $300-$500. The auction will also feature circus and carnival items, European Art Brut (outsider and self-taught art mostly from Europe but also Japan), bottle whimsy, tramp art, African-American and Southern quilts, Aboriginal items, trade signs, Native American art and jewelry and more.
Find out more and submit here to Slotin Folk Art Auction
Danish Mid-Century Modern furniture at The Specialists of the South, April 22nd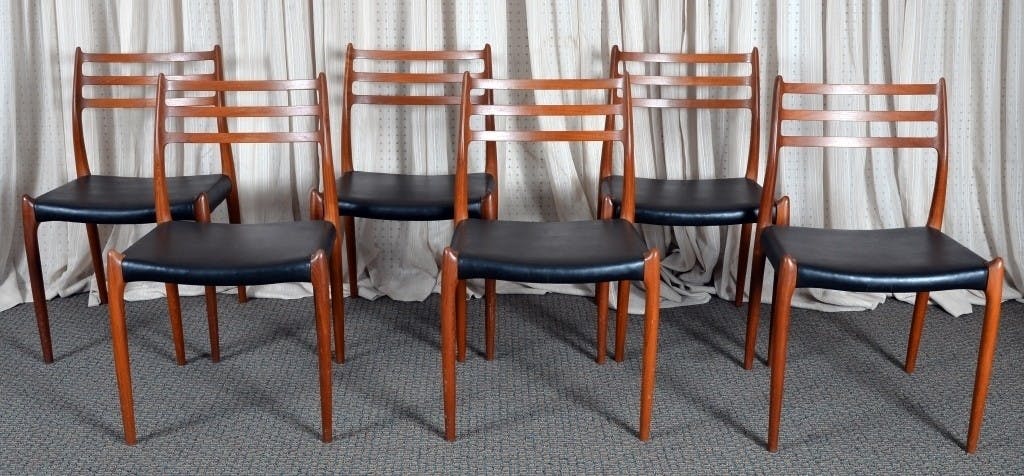 Several fine examples of Danish Mid-Century Modern furniture will be just one part of The Specialists of the South's big multi-estate auction planned for Saturday, April 22nd, online and at the firm's gallery in Panama City, Fla. But one lot stands out from the rest: this set of six Niels Otto Moller #78 teak side dining chairs pictured here, produced in the 1960s and having upholstered seats. Already a flurry of attention has been paid to the set, which carries a pre-sale estimate of $2,400-$4,000. The final price could go much higher.
The Danish designer Niels Otto Moller was born in Arhus, Denmark in 1920 and honed his cabinetmaking skills there at the Arhus School of Design. He became famous for his chairs, which strongly represent, through his choice of materials and soft curves, the Scandinavian post-war vision of practical yet well-made design. Moller's dining chairs and armchairs were done in finely sculpted, organic forms in teak, oak and walnut, exemplars of the post-war Danish Modern style. No wonder they're highly prized by collectors today.
Find out more and submit here to Live Auctioneers
73 lots of outstanding Native American objects from one collection, April 22-23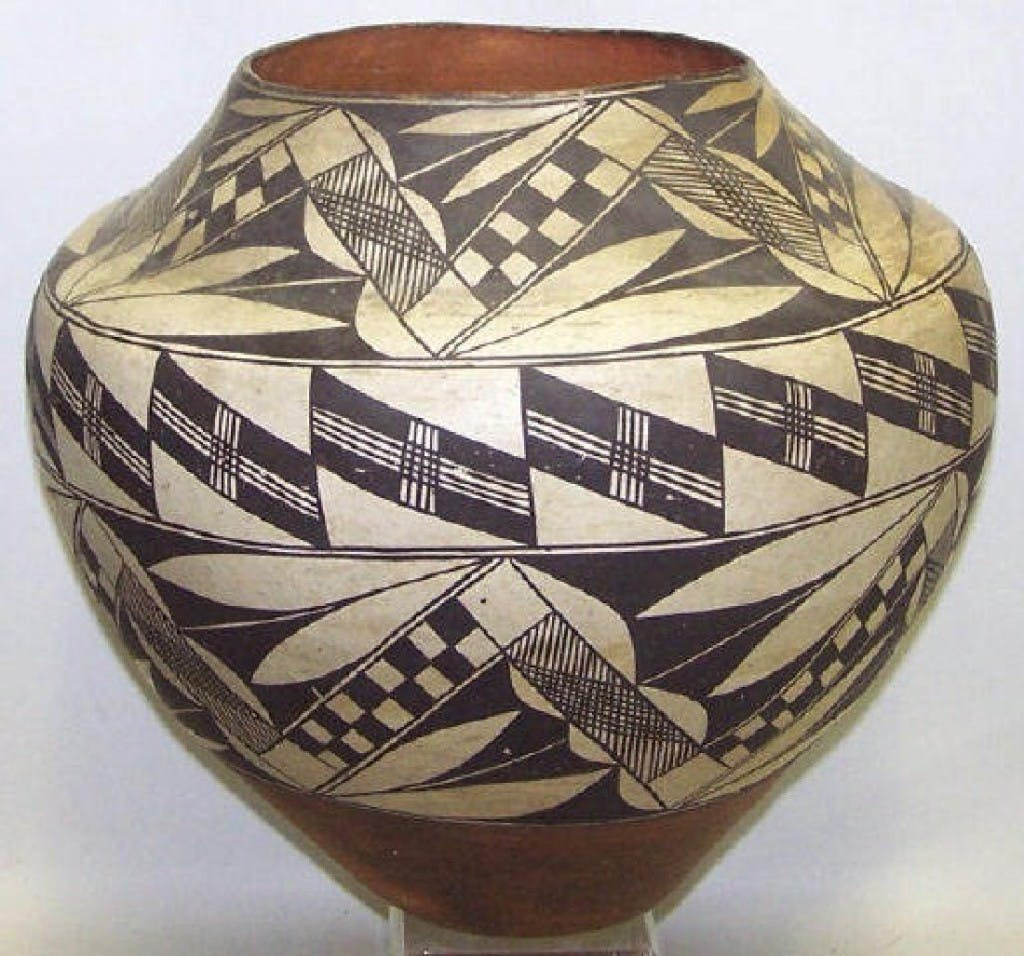 Lots 2001 thru 2073 in Bunte Auction Services' April 22-23 auction are from the estate of Bert Van Bork, who directed many films for Encyclopedia Britannica Educational Corp., including Indian Art of the Pueblos, which tells how the Pueblo Indian tribes of the American Southwest are preserving ancient art forms of their ancestors through ceramics, basketry, hand weaving and ritual dancing. In addition to Van Bork's Native American collection, the auction will also feature African items, firearms and militaria.
Van Bork's films reveal how contemporary Indians use symbols, forms and styles to reflect cultural history and religion. His collection of fine Hopi pottery, cradle dolls, tablitas and rattles are just part of this wonderful collection, an example of which is this stunning early Acoma polychrome vessel shown here, which is 13 inches tall and 14 inches in diameter. It is estimated to sell for $5,000-$7,000. The auction will be held online and in Bunte Auction Services' gallery, at 755 Church Road in Elgin, Ill.
Find out more and submit here to Bunte Auction Services
WWII Nuremberg trial document will come up for bid on April 22nd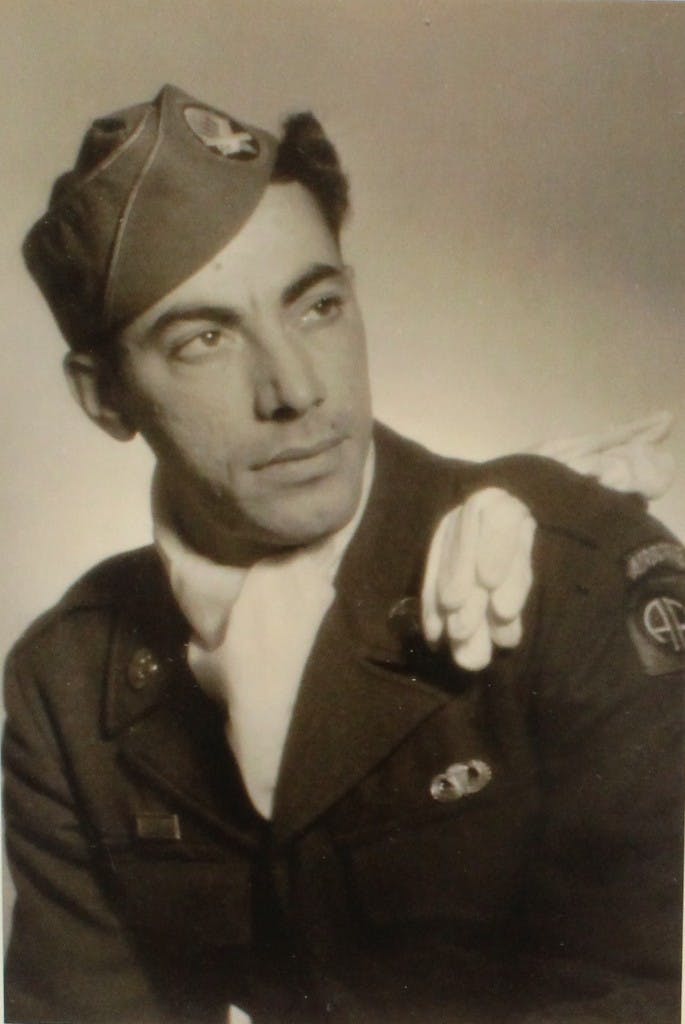 In October 1945, following the Allied victory in Europe over Germany and Italy, allied governments agreed that those responsible for wartime atrocities must be held accountable and punished for their crimes. The International Military Tribunal was organized in the German city of Nuremberg to address this goal. Judges and prosecutors were appointed from the U.S., the Soviet Union, Great Britain and France. Each appointed judges and supplied prosecutors to the tribunal. Indictments were filed against 24 Nazi officials.
On April 22nd, Alderfer Auction will auction a preliminary printed copy of the World War II war crimes tribunal indictments, with penciled-in corrections, titled International Military Tribunal, No.1, online and at the firm's gallery in Hatfield, Pa. The document was obtained by Pvt. Nicholas Arrigo of the 504th Parachute Infantry Regiment, 82nd Airborne Division in Oct. 1945. Arrigo was a guard at Gen. Dwight Eisenhower's headquarters in Berlin, after Germany's surrender. He earned two Purple Hearts during the war.
Visit www.alderferauction.com.